Choosing tyres for your motorbike? Here's what to follow

29 Mar, 2023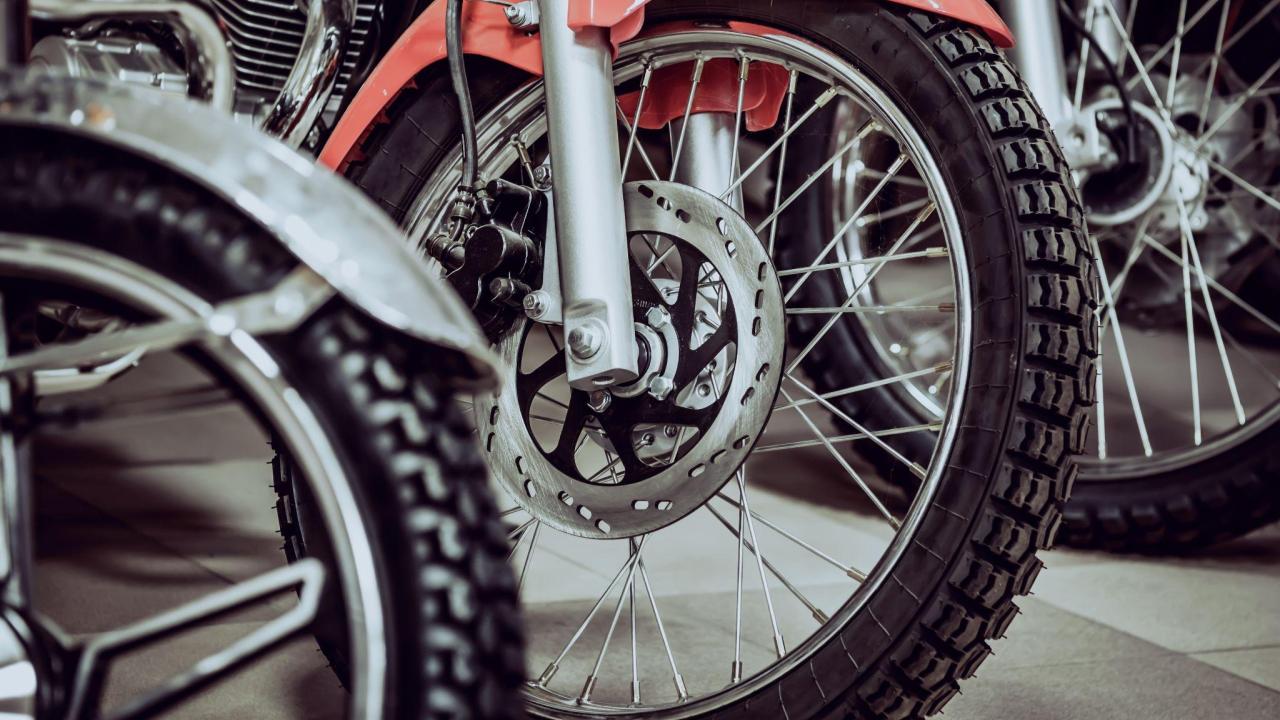 Selecting the correct bike tyres is important to have smooth bike rides on roads. The kind of bike tyre you choose will impact your riding experience. It is important to know more about what kind of tyres will give you the most comfort while riding.
There are many important factors you can consider before choosing the right tyres for your motorcycle. Firstly, you need to make sure that your tyres are capable of providing maximum grip and speed. Checking its durability, quality and efficiency are other important things you need to consider as well.
A typical motorcycle tyre should be judged and selected as per the riding style you usually follow. If you are the one who usually rides with heavy loads, then you must choose tyres that are capable of handling the pressure. If you are the one who goes for long trips most often, then you need tyres that have combined qualities in them. In this case, dual-compound rubber tyres can provide the most support to your motorcycle while riding for long distances.
One thing you could do before choosing tyres for your motorbike. You can research and list down all the technical properties of the desired tyres that are most likely to suit your bike model. You can contact a tyre manufacturer to guide you in selecting the perfect tyres.
You can list down all the specifications of the bike before buying suitable tyres for your motorbike. Things like tyre shape, strength, durability, rubber quality, tread pattern, etc. many more specifications you can consider to make a good choice. 
You cannot go on buying the ones that are most popular and get easily sold out. It is a mistake quite often made by most riders. The ones that have suited well for one bike may not suit the other types. It is always wise to check your bike manual or contact a manufacturer before choosing the perfect tyres.
In case you want to replace your old tyres, you need to research and find out what other good options are available in the market.
In this article, we will get into the details you need to consider before choosing the right tyres for your motorbike.
How to choose tyres that are most suitable for your bike?
There are so many factors you need to consider before choosing a bike tyre. Most importantly, you need to make sure the motorcycle tyre must be in the right size to fit your bike.
Also, you need to select a bike tyre that has high durability, provides good speed, and has great quality. It should be strong enough to provide long-term support for the ones who usually ride with heavy loads. Apart from all these, choose bike tyres that are capable of enduring bad weather impacts.
It is better to check instructions given by the manufacturing tyre companies to know what will suit best according to your motorcycle. You can also take recommendations from well-known motorcycle tyre manufacturers. Their guidance can help you choose the most suitable tyres for your bike.
Tyre dimensions
Usually, tyre dimensions vary according to the type of vehicle you ride. The numbers written on your tyre's sidewall indicate its size. A typical road bike tyre has 700 x 32c, which means, a tyre represents an outer diameter of 700mm and a width of 32mm. 
The perfect width size impacts the riding performance of your bike. Wider tyres have larger air volume that gives you better grip and comfort. Bikes of different models have different tyre specifications. It is important to determine the right tyre dimensions before choosing your bike tyres.
Choose The Right Type of Tyres for Your Bike
Choosing a tread pattern means getting tyres that perfectly fit your riding style. For road bikes, there are various ranges available in the market. If you look at the tyre manufacturers' websites, you can find numerous designs for different bikes.
Some common types of bike tyres
Slick bike tyres:
Slick tyres provide better traction than grooved tyres on dry roads. That's why these tyres are usually used in racing. However, it becomes hard to ride with slick tyres when it is raining on the street. In such conditions, a slick bike tyre provides less traction.
Semi-slick bike tyres:
It has a sporty appearance and has less tread to give you a better grip on the road.
This type of motorcycle tyre is made of a soft rubber compound that allows smooth braking.
Inverted tread tyres:
These types of tyres are designed to offer smooth riding on both plain and rough surfaces. Inverted tread tyres have more grip with rolling resistance.
Tubeless bike tyres:
These are the bike tires that are inflated with no tubes. Tubeless tyres provide lower tyre pressures for a smooth ride and better traction.
Foldable bike tyres:
If you don't want to take extra loads then you must get a foldable bike tyre for riding. It is easy to fold and carry with you. These foldable tyres are quite expensive, but still, they are more convenient to use. These are available for both mountain and road bikes.
Studded bike tyres:
Studded bike tyres are made with steel or aluminum studs to provide better traction while riding on snowy surfaces. These tyres are most suitable during the winter season as they provide a better grip.
Advanced Dual-compound rubber in bike tyres:
Maximum bike tyres are made of a single type of rubber. Some rubbers are soft and sticky providing a good grip. While hard bike rubber has more durability. Some tyres have dual-compound rubber to give you the best riding experience. The dual-compound rubber tyres have multiple qualities to provide smooth riding. The combined qualities can ensure excellent speed and better grip for cornering.
Tyre Pressures
If the tyre pressure is not up to the mark, it can severely reduce the performance of your bike.
It does affect the overall handling. If the pressure in tyres is too low then it can result in tyre deformation and overheating.
Whereas, overinflation of tyres can make your riding inconvenient and rough. You must look at your bike manual to find out the recommended pressures for your bike tyres and adjust them accordingly. You can also check out the manufacturer's website to get more details about this.
Final Thoughts
Tyres are one of the essential parts that allow you to control your bike. Choosing the right bike tyre is important to ensure smooth riding on roads.
From accelerating, and braking to cornering, tyres play a major role in defining your bike performance. Every rider follows a different riding style and one needs to find out what kind of tyres can best suit their bike type.
Choosing the wrong tyres may not give you the best riding experience you have expected and on top of that, it is risky as well. It is better to research beforehand about what type of tyres will be most efficient for your bike type.
Hence, before choosing tyres for your bike you need to set your priorities straight to find the right tyres for your motorbike.
To get more updates on the bike price in BD 2022 and the latest news, check out bikesguide.
FAQs
What are the three basic types of bike tires?
The three main types of bike tyres include– clincher, tubular, & tubeless.
Do you think a wider tire is better for a road bike than a thin one?
Wider tires provide a faster riding experience on rough roads and ensure smooth riding than a thin motorcycle tyre can do.
Which type of tyres is most durable?
Some good brands that provide durable and reliable tyres are —
Bridgestone

Hankook

Michelin

Pirelli

Continental